SKU: MT8
This DECKED truck bed organizer fits a Toyota Tacoma pickup truck with a bed length of 6'2" manufactured from 2019 to current. 
All DECKED Drawer Systems come standard with the following accessories included at no extra charge: (1) D-Box Desert Tan, (1) Crossbox Desert Tan, (1) DRAWERGANIZER™, Set of (2) Wide Drawer Dividers (Narrow Drawer Dividers can be purchased separately). Additional accessories ship for free, so order up! Check out our full accessory line HERE. 
NOTE: This vehicle requires drilling holes in the truck bed for installation. For more information, check out the instructions HERE.
NOTE: Because the long midsize DECKED system is 68", there will be about 5.4" of empty space between the tailgate end of the DECKED system and the tailgate. DECKED drawers require 4" to be opened, but the first 5 1/2" of the drawer are taken up by the handle cavity and drawer taper. So, it is nearly impossible to remove anything from the drawers with the tailgate closed.
NOTE: Drawers are full bed-length drawers, but do not fully extend. Max midsize short drawer extension: 42" for reasons related to physics.
BED RACKS: Works with Leitner Design bed racks and many other models of bed racks. Contact our customer service team if you aren't sure if your bed rack is compatible.
LINERS: Works with spray-in bed liner, but NOT a drop-in plastic bed liner.
BEDRUG: Works with BedRug mat, but NOT with a BedRug full liner.
WARRANTY: We offer a limited lifetime warranty on all DECKED products. Warranty in detail HERE.
SHIPPING POLICY: Shipping of a DECKED Drawer System anywhere in the contiguous U.S. is FREE. Shipping takes 7-14 days. Shipping Policy HERE. 
Please visit the FAQ page for more answers to those tough questions! 
NOTE: Access to the outlet and both storage compartments will be compromised, but hey, life ain't always fair, right?!. You can remove the storage compartment doors for limited access. NOTE: you must do this before you install the DECKED system.The power outlet can still be used if you insert a flat head pigtail extension cord BEFORE you install the deck panels. Make sure to have the outlet capped to keep water out. A low profile pigtail will work. You can install a weatherproof cover over female end of the pigtail when not in use.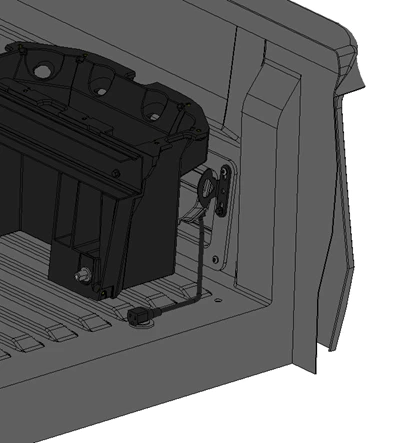 TECH SPECS
FOR ALL YOU ENGINERDS
WEIGHT CAPACITIES:
2000 lb payload evenly distributed
200 lb payload per drawer
SYSTEM DIMENSIONS:
TOTAL WEIGHT: ~230 lbs
LENGTH: 68"
WIDTH: 56"-64"
HEIGHT: 12"
SHIPPING DIMS: 259 lbs, 78" x 39" x 23"
NARROW DRAWER DIMENSIONS:
LENGTH (top of drawer):  64.7"
LENGTH (bottom of drawer): 59"
WIDTH (top of drawer): 11"
WIDTH (bottom of drawer): 9.75"
HEIGHT: 8.5"
EXTENSION (each): 42"
WIDE DRAWER DIMENSIONS:
LENGTH (top of drawer):  64.7"
LENGTH (bottom of drawer): 59"
WIDTH (top of drawer): 18"
WIDTH (bottom of drawer): 16.75"
HEIGHT: 8.5"
EXTENSION (each): 42"
More detailed technical specs HERE.
Built from 100% recycled HDPE (High Density Polyethylene) in-molded to a galvanized recycled steel subframe.
Current Lead Times
CBI Offroad Fab Current Lead Times
BUMPERS

Steel Front Bumpers | 6 Weeks
Aluminum Front Bumpers | 4 Weeks
Rear Bumpers | 8 Weeks
Covert Bumpers | 4 Weeks


RACKS & BARS

Bed Racks | 4 Weeks
Bed Bars | 1 Week
Prinsu Roof Racks | 1 Week


ROCK SLIDERS

Rock Sliders | 4 Weeks


SKID PLATES

Skid Plates | 4 Weeks


ACCESSORIES

Ditch Light Brackets | 1-2 Week
CBI Accessories | 1-2 Week
Prinsu Accessories | 1-2 Week
All Lead Times Are Estimations
All lead times are estimates and rely on various factors. We are currently experiencing higher-than-usual lead times as many companies are within our industry. 
We are actively improving our processes, increasing teams, and growing our resources to decrease these times as quickly as we can. 
If you have questions about your lead times, please check the estimated lead time and compare it to your order date. If you have additional questions, please reach out to our team. Thank you again for your continued support and patience. 
THIRD PARTY PRODUCTS
Any potential delay that occurs in the sourcing, processing, or drop shipment at the third party level will be communicated to the best of our ability to the customer.